I've made several key changes over the course of my career in marketing. The first big change was becoming a consultant in July 2000. It was a scary time because, as an introvert who hated sales; I had to build my business on my own. I called it my lesson in fear, but I was single, thirty-five years old and had had little to lose since I could easily get a job.
Fast forward twenty-two years later and I'm amid what feels like a bigger "life quake" transition, according to author Bruce Feiler. I gave up my career in produce marketing a little over a year ago to become a full-time writer. Instead of being a lesson in fear, it's been a lesson in self-doubt. At thirty-five, I had already established myself as a marketer. Now I'm starting over in a new industry and learning all about publishing from the ground up. It's a gutsy move, to say the least.
Reading these books on mastering change has helped me navigate this transition, giving me a sense of perspective and direction because change is not easy.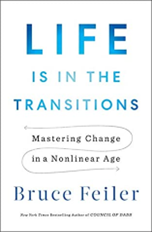 In Bruce Feiler's book Life Is in the Transitions: Mastering Change at Any Age, he emphasizes the importance of understanding your personal life story to not only give life meaning but to help navigate the chaos of change. The book is based on 225 interviews Feiler conducted. He suggests most of us will experience three to five major transitions, which he calls life quakes. These forceful bursts of change lead to a period of upheaval, transition, and ultimately renewal.
He also identifies three parts of our narrative identity: who we are as individuals, who we are as part of a group, and what ideal we serve. Most of us prioritize one part of our identity over the others. I can relate to this because I often sacrificed my social life for my work life as a marketing consultant, something I'm not willing to do as a writer. There are three stages of transitions: the long goodbye, the messy middle, and the new beginning. The author gives seven tools for navigating them.
Accept it. Identify your emotions.
Mark it. Ritualize the change.
Shed it. Give up old mindsets.
Create it. Try new things.
Share it. Seek wisdom from others.
Launch it. Unveil your new self.
Tell it. Compose a fresh story.
In Arthur C. Brooks' book, From Strength to Strength: Finding Success, Happiness, and Deep Purpose in the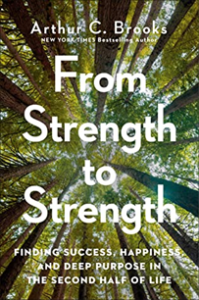 Second Half of Life, he speaks to why making a major change can be beneficial but for not the typical reasons we think. Brooks references the many scientific studies that show most professionals' fluid intelligence (smart, innovative abilities) peak around 40-45 and then they go into a professional decline. I wasn't familiar with this concept, which felt scary to me at first.
But, according to Brooks, there is hope in the form of a second curve in which strivers can veer off the main highway and use their crystallized intelligence (accumulated wisdom) to live a more fulfilling life. This may include mentoring or coaching. But unlike the first curve (the strivers or workaholics curse), there's an opportunity to live a more well-rounded life, especially with forming more lasting, meaningful relationships.
For me, the second curve has been complete career change from my dynamic but stressful career in marketing to becoming a writer and using my accumulated wisdom to tell stories, entertain and inspire. Reading this book has validated my own experiences and is helping me to navigate through this time of change.